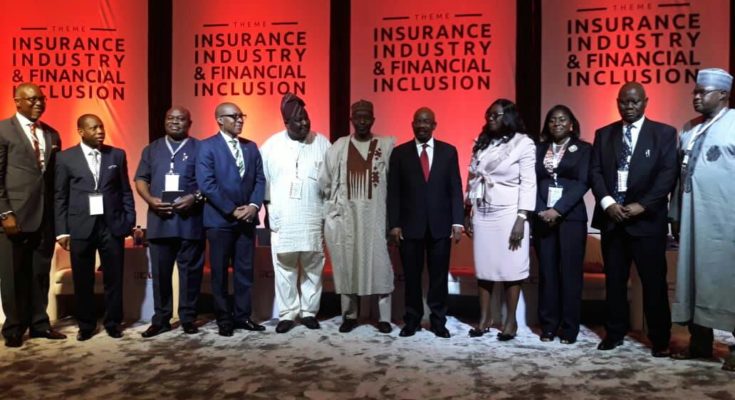 The National Insurance Commission (NAICOM) has called for collaborations across the nation's regulatory agencies, as well as foreign counterparts, in efforts to bridge the long standing gap in the country's insurance penetration target.
The Commissioner for Insurance, Mohammed Kari, who restated the call the Risk Frontiers West Africa 2018 conference in Lagos, described the collaboration between NAICOM and other agencies, including foreign regulators, as crucial for experience sharing.
Kari, who was represented by NAICOM's Director for Inspectorate, Pius Agboola, said that collaboration among insurance operators, others, NAICOM and other partners such as EFInA, German Corporation for international Cooperation (GIZ), Access to Insurance Initiative (A2II), Making Finance work for Africa (MFW4A), among others, cannot be over-emphasised.
He said insurance should be perceived not as a protection mechanism, but more importantly as a partnership that allows individuals and businesses to spread their wings and go to where otherwise they would not have dared to.
The NAICOM chief noted that one important observation to make is whether individuals and businesses have been able to spread their wings everywhere to enable them take un-imaginable risks and enjoy the associated rewards.
The answer, he said, is the existence of insurance gap, which he described in his presentaion as the insurance protection gaps.
Speaking on insurance protection gaps, he described uninsured losses as a proportion of total economy losses; uninsured people as a proportion of the total population; insurance actually purchased against economically beneficial coverage; actual insurance penetration against benchmark and financially excluded adults in insurance as a proportion of total adults of a country.
He highlighted noticeable insurance gap areas for mature markets and economy as natural catastrophes, cybercrimes and risks; healthcare; pensions; and emerging risks.
For frontier and emerging markets such as Nigeria, he said there are noticeable gaps in all areas.
Kari, however, noted that insurance gaps in certain types of policies may be more pronounced in one country than the other, saying that NAICOM has been trying to bridge the insurance gaps by working at root causes and providing remedies.
He said: "To bridge insurance gaps in Nigeria, the Commission engaged in specific regulatory initiatives. They include improving insurance penetration and insurance literacy level; and Proposed Tier Based Solvency Minimum Capital (TBMSC).
"The Commission improved insurance penetration by introducing stand-alone full license for Micro Insurance organisations while two Takaful Insurance licenses have been issued. Similarly, Bancassurance partnership with conventional banks has started while microfinance banks are in progress
"Partnership with relevant agencies and state governments on compulsory insurances implementation is in progress while distribution channels are being expanded.
"Co-ordination with relevant government agencies for effective insurance of government assets is ongoing while we have partnership with relevant government agency like Nigeria Incentive-Based Risk Sharing System for Agricultural Lending (NIRSAL) on agriculture index insurance."
Speaking on how the commission has been working to improve insurance literacy level, he said: "The Commission partnered the operators on awareness creation through the medium of Insurers' Committee; partnered with foreign development agencies for sponsorship; reinforced our zonal and branch offices on insurance education at their domain
"On the proposed TBMSC, we plan to encourage specialisation among insurers; strengthen insurer's capacity; Improve insurance penetration; attract foreign investment; and Encourage healthy competition."
However, the importance of collaboration towards reducing insurance gaps in developing nations cannot be over-emphasised."